"Là tout n'est qu'ordre et beauté, luxe, calme et volupté". Charles Baudelaire
A double floor stone house, 100 m2, two bedrooms and a mezzanine
a cozy fireplace in addition to central heating
The living room has a double sofa-bed (140)
and an antique bed (110)
The ambiance here is quaint and typically French

On the first floor which has wooden floor is a loft with queen bed (160) and a single bed (90)
and a mezzanine (not on picture because of the "contre-jour") with a futon (120) and many many pillows, gently kept by Baloo and Baghera...
on the groundfloor next to the living-room is a bedroom with double bed (140)
and two bunk beds (90)
The very thick walls (120cm) keep the house cool in the summer and warm in the winter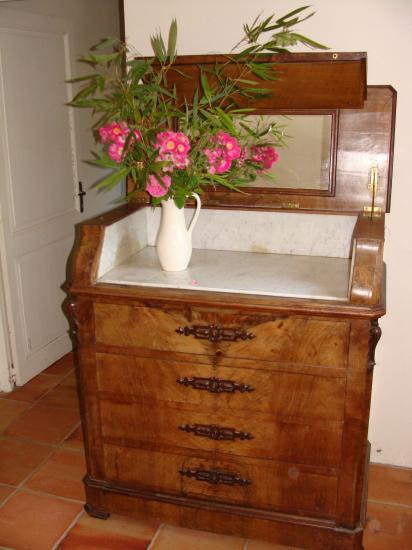 family antiques, exposed beams, stone walls and tile flooring
bathroom with shower and windows overlooking the river
A fully equipped open-plan kitchen: washing-machine, dishwasher, microwave, cooker, oven, kettle, coffee-machine, fridge, freezer
The village's market provides local organic and fresh food.
"To sit in the shade on a fine day, and look upon verdure is the most perfect refreshment." Jane Austen.