The House by the River is situated 2 miles away from Aubeterre-sur-Dronne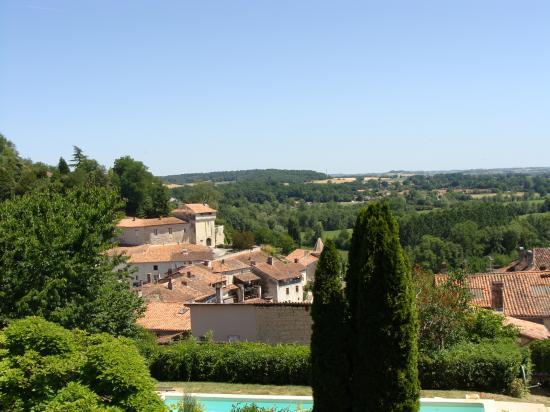 On the borders of Charente and Périgord, Aubeterre's entangled roofs and castle cling to a grassy cliff on the banks of the Dronne.
The monolithic or rock-hewn underground Church of Saint Jean, the Collegiate Church of Saint Jacques,
chapels and convents are evidence of the village's significant religious past.
Pilgrims on their way to Santiago de Compostela have been stopping by here for over a thousand years.
Listed as one of France's Most Beautiful Villages, Aubeterre-sur-Dronne immediately appeals to the visitors
with its beautiful houses arranged in an amphitheatre and dominating the river Dronne.
The charming wooden balconies
decorating the facades of certain houses add to the picturesque nature of the place.
the Roman Arch at the entrance of the Collegiale Saint-Jacques
The market on Sunday morning

Today the heart of this so French litlle village, long the working quarter of the village, is full of life with cafés, restaurants, a market twice a week,
shops and artisans'workshops: potters, woodworkers, a dressmaker, a leather worker, and painters, galleries and studios.
Tasting the baker's baguette tradition, the butcher's local beef and Gilberte's strawberries is a must !
The old Saint François Hospital and its chemist's shop
The population of the village numbers 430 but during the long lazy summer months its ranks swell with holiday makers from around the globe,
making it a truely international experience, in an authentic French setting.
picturesque streets
panoramic view over relaxing river beaches
Roger Vivier, the famous shoes designer, once owned Aubeterre's castle.
The incredible charm of these old typical houses of Charente.
The wash house, symbol of the traditionnal village life in the past.
The highlight of the village is the outstanding monolithic Church of Saint-Jean, carved out of rock in the 12th century by the Benedictines monks.
With its 20 meters high vault, the biggest troglodyte church in Europe is worth visiting !
With its famous Monolithic Church, quaint village square, cloister, museums and castle, Aubeterre is to be seen !
If you like to discover France there are plenty of other authentic villages without any festival to be seen : Bonnes, Saint-Privat-des-Prés, Saint-Aulaye, Lusignac,... where you might not see glamourous people but women carrying their basket of vegetables in their casual wears or a group of men chattering with baguette and newspaper under the arms, all living their simple lives...